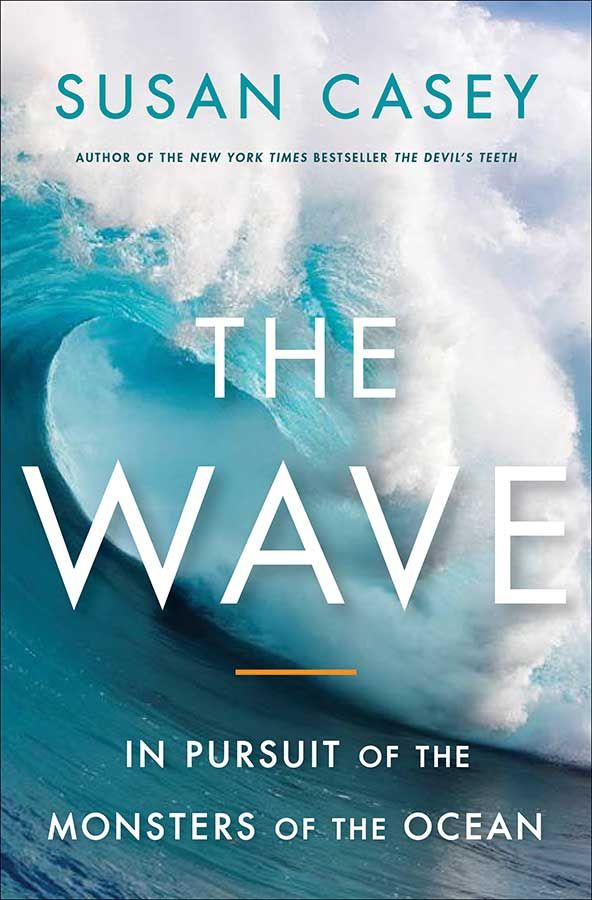 The Wave
From Susan Casey, bestselling author of The Devil's Teeth, an astonishing book about colossal, ship-swallowing rogue waves and the surfers who seek them out.
For centuries, mariners have spun tales of gargantuan waves, 100-feet high or taller. Until recently scientists dismissed these stories—waves that high would seem to violate the laws of physics. But in the past few decades, as a startling number of ships vanished and new evidence has emerged, oceanographers realized something scary was brewing in the planet's waters. They found their proof in February 2000, when a British research vessel was trapped in a vortex of impossibly mammoth waves in the North Sea—including several that topped 100 feet.
As scientists scramble to understand this phenomenon, others view the giant waves as the ultimate challenge. These are extreme surfers who fly around the world trying to ride the ocean's most destructive monsters. The pioneer of extreme surfing is the legendary Laird Hamilton, who, with a group of friends in Hawaii, figured out how to board suicidally large waves of 70 and 80 feet. Casey follows this unique tribe of peo­ple as they seek to conquer the holy grail of their sport, a 100­-foot wave.
In this mesmerizing account, the exploits of Hamilton and his fellow surfers are juxtaposed against scientists' urgent efforts to understand the destructive powers of waves—from the tsunami that wiped out 250,000 people in the Pacific in 2004 to the 1,740-foot-wave that recently leveled part of the Alaskan coast.
Like Jon Krakauer's Into Thin Air, The Wave brilliantly portrays human beings confronting nature at its most ferocious.
"[Susan Casey] examines big waves from every angle..."
"...and goes in deep with those who know the phenomenon most intimately…Casey makes a convincing, entertaining case (nifty cliffhangers and all) that there is a heretofore little-known monster in our midst."

—New York Times Book Review
"...an unsettling thrill ride that's as terrifying as it is awe inspiring."
"You think Jaws made you fear the ocean? In this adrenaline rush of a book, Casey…describes 'nature's biggest tantrum'…Her eerie, majestic descriptions…make The Wave an unsettling thrill ride that's as terrifying as it is awe inspiring."
—People
"Immensely powerful, beautiful, addictive and, yes, incredibly thrilling…"
"Casey unlocks the mysteries of waves in her fascinating and enlightening book. And like a surfer who is happily hooked, the reader simply won't be able to get enough of it."
—San Francisco Chronicle
"Susan Casey's white-knuckle chronicle"
"which follows the surfers pursuing the waves and the scientists struggling to understand them—delivers a thrill so intense you may never get in a boat again."
—Entertainment Weekly
"Casey's account of the impromptu adventure is terrific."
"Casey does an exceptional job of explaining the natural forces (winds, currents, ocean-bottom shape) that create these daunting, at times fatal, surfing spots."

—Wall Street Journal
"[A] captivating hybrid"
"–an intro to the mind-melting physics of waves and a ride-along with the scientists and surfers who chase after them…Fascinating."

—Men's Journal