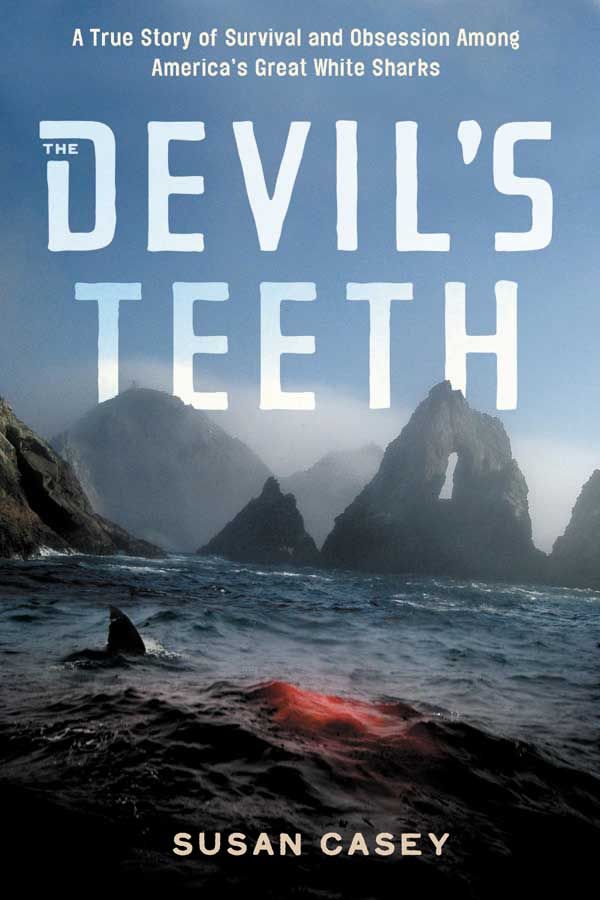 Devil's Teeth
Since Jaws scared a nation of moviegoers out of the water three decades ago, great white sharks have attained a mythic status as the most frightening and mysterious monsters to still live among us. Each fall, just twenty-seven miles off the San Francisco coast, in the waters surrounding a desolate rocky island chain, the world's largest congregation of these fearsome predators gathers to feed.
Journalist Susan Casey first saw the great whites of the Farallones in a television documentary. Within months, she was sitting with two shark scientists in a small motorboat as the sharks—some as long as twenty feet, as wide as a semitrailer—circled around them. From this first encounter, Casey became obsessed with these awe-inspiring creatures, and a plan was hatched for her to join the scientists and follow their research. The Devil's Teeth is the riveting account of that one fateful shark season.
"[A] page-turner…"
"The book gives you a way of reaching these mysterious isles without getting wet."
—San Francisco Chronicle
"Casey delivers amazing details…"
"The Devil's Teeth will surely satisfy your appetite for all things fanged and finned."

—National Geographic Adventure
"Casey creates compelling portraits..."
"...of the legendary predators, as well as of the scientists."

—People
"Guaranteed to scare people right out of the water."
"...just the right mix of anxiety, gore and reassuring shark science."
"Susan Casey's lively portrait of life among Northern California's white sharks and the dogged researchers who study them indulges in just the right mix of anxiety, gore and reassuring shark science. One can find reason to fear the waves and then muster the courage to enter them, usually within the same chapter…The sharks are the stars of Casey's story, but the Farallones steal the show."
—The New York Times Book Review
"An evocative and entertaining account of the cutting edge of marine biology."